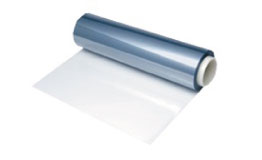 Release liner
◆Difference Coating
1. Silicone Release Film
Silicone release film is coating silicone on base film to make release force for adhesive. These base films are: PET, LDPE, HDPE, PP. Silicone release film best benefit is cheap and substrates being used in a release liner makes up over 20% of the release liner market and is growing steadily. There are usually cost savings seen due to faster production, more labels per reel and a potential broader range of adhesive options.
2. Fluorosilicone Release Film
Fluorosilicone release film normally using on adhesive with silicone. Because if it use silicone release film with silicone adhesive, they will chemical reaction. So if the pressure sensitive adhesive with silicone, it will use Fluorosilicone release film. Force-One produce the release films with special formula and reliable coating process. Our high quality release films have been successfully applied to all kinds of PSA tapes. We still have double-sided release films and also slit the film into the size customers required.
3. No-Silicone RF
◆Difference Color
1. Blue RF
2. Yellow RF
3. Other Color RF
◆Special Function
1. Anti Static RF
Anti static silicone release film having a layer coated with an anti static silicone release composition, and, used for semiconductors, electronics and display devices while addressing problems of static electricity generated when a general release film is separated from adhesive or an adhesive layer, and of contamination by such static electricity that causes critical product defects. Force-One's products also relates to an anti static silicon release film that can reduce product contamination caused by static electricity in peeling the film from adhesive or an adhesive layer, and achieves close adhesion between a substrate and a coated layer because of no interruption in curing a release layer, and also thereby has a stable release property.
2. Double side coating RF
◆Customized RF
What is release liner
A release liner is a paper or plastic-based film sheet (usually applied during the manufacturing process) used to prevent a sticky surface from prematurely adhering. It is coated on one or both sides with a release agent, which provides a release effect against any type of a sticky material such as an adhesive or a mastic. Release liners are available in different colors, with or without printing under the low surface energy coating or on the backside of the liner. Release is separation of the liner from a sticky material; liner is the carrier for the release agent.