Thermally Conductive Adhesive Transfer Tapes
---Thermal Film, Thermally Conductive Tape---
Force-One's Thermally Conductive Adhesive Transfer Tapes is designed to provide a preferential heat-transfer path between heat-generating components and heat sinks or other cooling devices (e.g., fans, heat spreaders or heat pipes). It is also used for thermal management of high powered LED's which can run at high temperature, thus increasing the efficiency and reliability of the system. They come in various sizes and various versions, we offer also a double-sided thermally conductive tape. Very effective and reliable used by all the top professionals in the industry.
This tape is tacky pressure-sensitive adhesive loaded with thermally conductive ceramic fillers that do not require a heat cure cycle to form an excellent bond to many substrates. Only pressure is needed to form an excellent bond and thermal interface. The specialized chemistry of the tapes renders it modestly soft and able to wet to many surfaces, allowing it to conform well to non-flat substrates, provide high adhesion, and act as a good thermal interface, offers excellent adhesive performance with good wetting and flow onto many substrate surfaces, and offers both good thermal conductivity and good electrical insulation properties.

Application:
Electronic components: IC, CPU, MOS,LED
Mother Board, Power Supply, Heat Sink, LCD-TV,
Notebook , PC, Telecom Device, Wireless Hub, Cell Phone.
DDR Module(RAM), DVD Applications, Hand-set Applications etc.
Benefit of Thermal Tape :
1.Great thermal conductivity
2.Good adhesion (Acrylic PSA)
3.High mechanical strength
4.Easy to assemble
5.Excellent shock performance
*Welcome to contact us for thermal tape.
Thermal conductive double side tape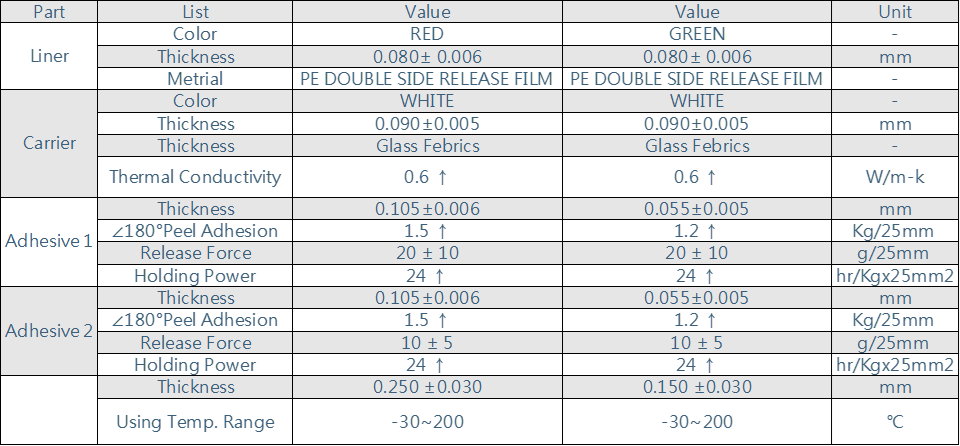 Thermal double side tape without carrier